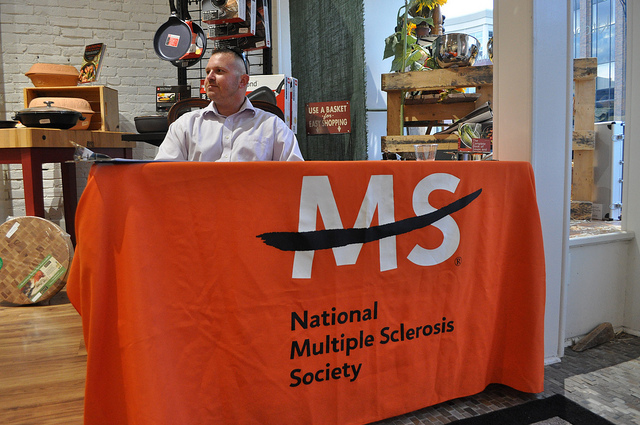 There are so many awareness days, and sometimes it feels overwhelming. In any given week you can have a ladybug awareness day, a cancer awareness day, a snowflake awareness day, and a banana awareness day. The goofy ones seem to undermine the ones that really matter.
That being said, March is designated as an awareness month for two causes that are near and dear to my heart. This month is dedicated to raise awareness about women's issues and reaches a peak with International Women's Day, which was on March 8th this year.
March has also been named Multiple Sclerosis (MS) Awareness month, and this is something else that holds a special place in my heart.
MS Awareness Month
This May will mark the 25th anniversary of my paternal grandmother's death, which was caused by complications from MS. As a kid, I did not really understand what MS was or how horrifying it must have been for my grandmother, although I did participate in the St. Jude's Read-a-Thon every year during my elementary school years because I knew they were helping people like my grandma. As an adult I have come to understand that MS is a disease that attacks both the nervous system and your immune system. For my grandma, it meant life in a wheelchair, and uncontrollable coughing, among other things.
Multiple Sclerosis bears many similarities to ALS (or Lou Gehrig's Disease). This article from Livestrong points out a few differentiating features. The most significant difference seems to be that a diagnosis of ALS usually means persistent and rapid worsening of the patient's condition. People with MS can sometimes see symptoms come and go, and the symptoms can vary. The cruel thing about both of these diseases is that as the body becomes weaker and less able to do things, the mind stays firm and strong. For patients with MS or ALS, this can be the worst part of the disease to endure.
These days, patients have many more options than my grandma did during her lifetime. This page from the National Multiple Sclerosis Society talks about symptom management, treating "flare-ups," rehabilitation, traditional medicine, and even alternative treatments.
The bottom line, however, is that we are still not at a place where we can completely "cure," or even fully understand MS. This awareness month for MS marks a good time to ponder how we can help change the lives of those who are living with MS and those who might be diagnosed in the future.
How You Can Help
There are a few different fundraisers that the National MS Society runs throughout the year. Why not take a pledge this month to participate in one of these activities? They are fun, good exercise, and it's for a great cause!
— Bike MS: If you love riding your bike, visit this page to see if a Bike MS event is happening near you.
— Walk MS: If you're not a cyclist but still want to hit the trails to raise money for MS research, consider a walk for an MS event. Just enter your zip code on the linked page to find an event near you!
— Challenge Walk: Much like the Susan G. Komen Foundation, the National MS Society sponsors what they call "Challenge Walks" in nine different locations. These walks are 30-50 miles, and are great opportunities to raise money while getting to know the wider MS support community. See if there is a challenge walk near you if you are really ambitious!
MS can be a devastating disease but it does not seem to get the kind of attention it warrants. This month, spend a moment or two learning about this disease. Perhaps you know someone who is struggling with MS now.
Reach out. Lend a hand. Lend a bike ride. Get involved!