Your donation page is the centerpiece of your website. A great nonprofit donation page is secure, blends in with the rest of your website, and makes it easy for your supporters to quickly complete their donations. And a poor nonprofit donation page that is overly fussy, clunky or time-consuming can push supporters out of the donation process entirely. Mightycause has two great options to power your donation page, securely process donations, and get more donors.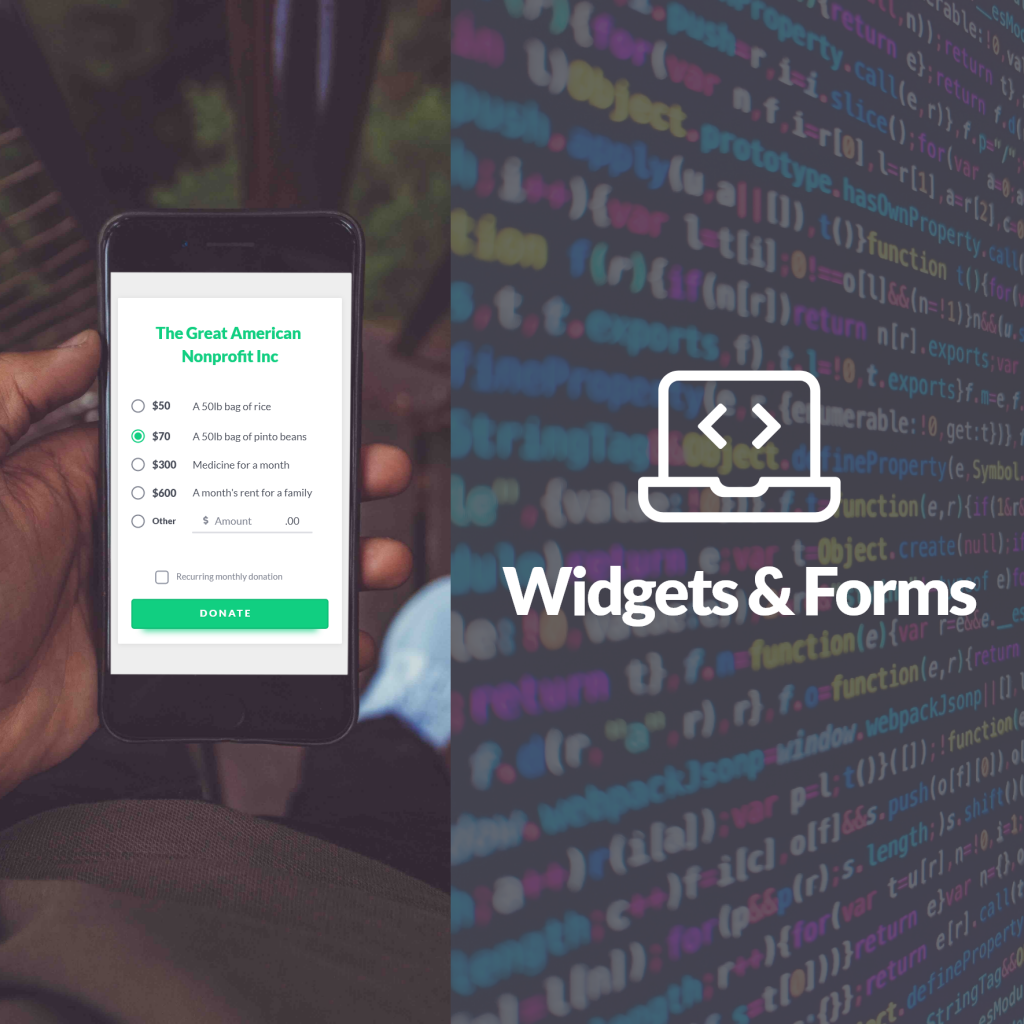 Mightycause's Nonprofit Donation Page Technology
We have two options to securely process donations on your website: our donation widget and donation forms.

The Donation Widget
Since Mightycause was founded in 2006, our donation widget has been one of our most popular tools. The donation widget is an inline frame (iframe) element you can embed on your website, usually on your nonprofit donation page. By adding a small snippet of code to the backend of your website, you can securely process donations using your Mightycause account. Our widget works on a dedicated nonprofit donation page, blog, or any webpage where you'd like to capture donations.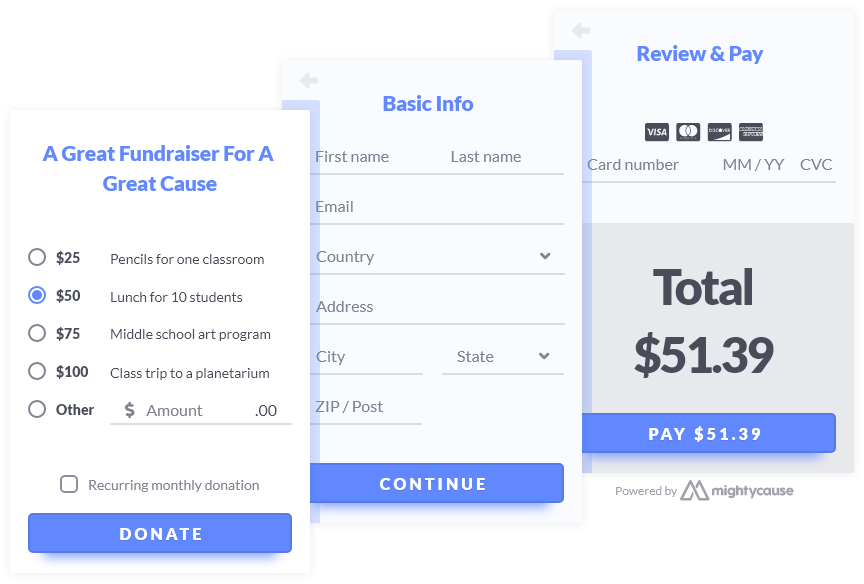 Supporters can complete a donation in just three easy steps. And we immediately record their donation in your donation report, because the donation processes through your nonprofit's Mightycause account. The widget will pull in your branding, custom donation suggestions and descriptions, and settings from your Mightycause account. And the best part? From start to finish, donors stay on your website. They don't need to login anywhere, or open any new tabs or windows.
The Donation Form
Looking for a more comprehensive embeddable tool? Our donation form gives you even more options and helps you build a robust nonprofit donation page. Like the widget, the donation form is embedded on your website by inserting some code that Mightycause generates for you. But it's a huge step up from the widget, with all the benefits of the widget, and more!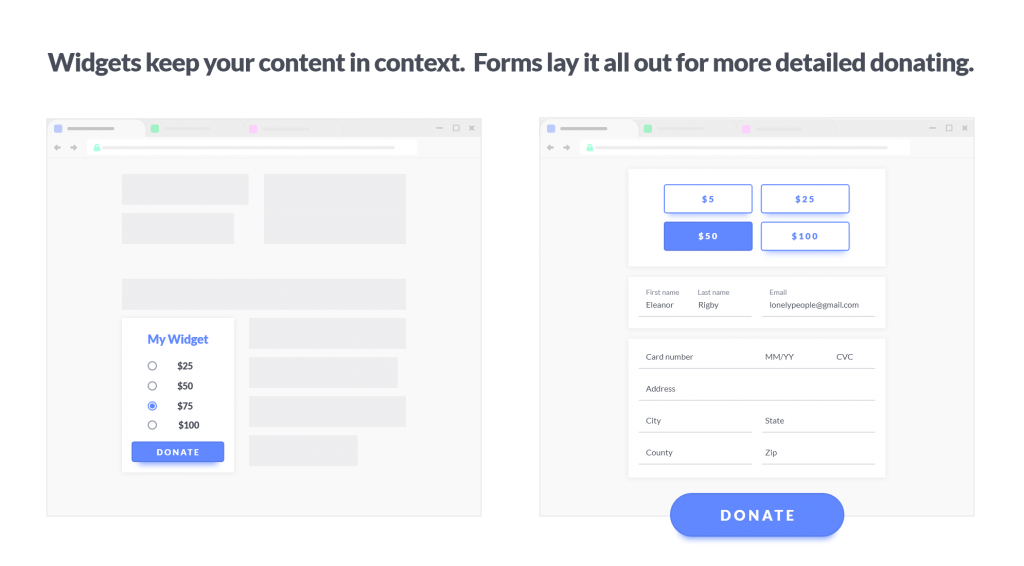 Mightycause's donation form allows even greater control over the donation process. Ask custom questions and build a lengthier form to capture all the data you need to follow up with donors. We pull in your Donor Experience settings to ensure that you have as much control over the checkout process as possible. Donors can add dedications and designations, and we'll build a donor profile for everyone who donates in the Supporters CRM tool.
Improve Your Donor Experience with Mightycause Fundraising Tools
So Much More Than Donation Processing
The primary function of our donation widget and form are to securely process donations. But these tools exist as part of the full Mightycause fundraising suite, integrating the fundraising done on your website and with your Mightycause fundraising efforts.
Beyond the PayPal Donate Button: Announcing New Mightycause Pricing
Other companies that offer tools for nonprofit donation pages, such as PayPal, offer one thing. They process a transaction, that's all. But Mightycause's tools don't stop there.
We help you track your donations, provide comprehensive donation reports, allow donors to set up recurring donations to support your work on an ongoing basis, and give your nonprofit control over the donation process. Mightycause supports your nonprofits year-round fundraising efforts, offering peer-to-peer, event and team fundraising, giving days and more. And did we mention that we offer all of this for less than the cost of that PayPal button? Yeah. We do.
Embeddable Donation Options for All Budgets
Mightycause has an option for your nonprofit donation page whether your budget is robust or zero. All nonprofits on the Mightycause platform can use the donation widget for free. No startup cost, no upfront fees, no subscription required. So, for nonprofits looking for a low-cost option for their nonprofit donation page are a perfect match for the widget. And it's an even better option for nonprofits still using a PayPal donate button.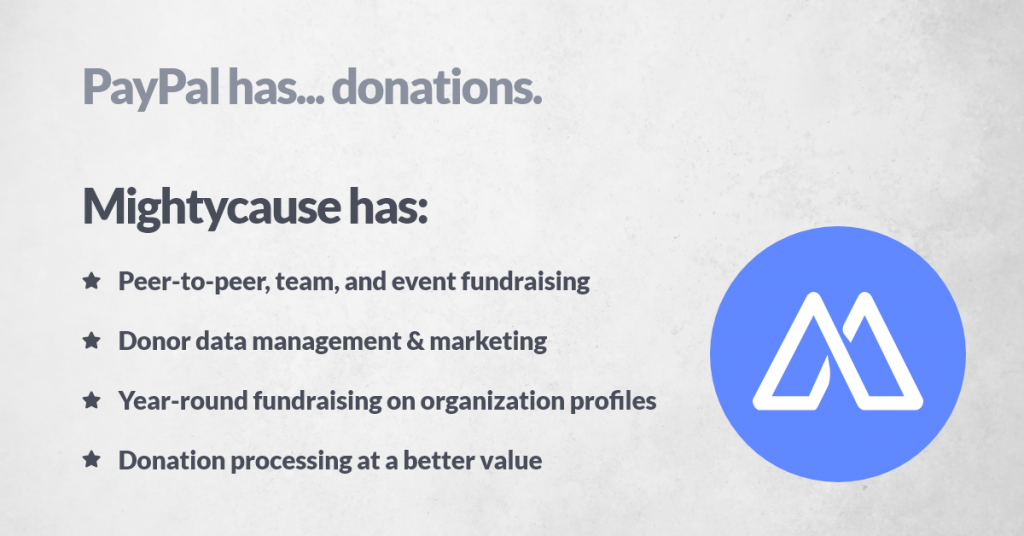 For nonprofits looking for a more customized fundraising solution, Mightycause Advanced offers access to the donation page, in addition to even mightier fundraising tools that help build their donor bases.
Mightycause's Advanced Fundraising Suite
With a subscription to Mightycause Advanced, you'll be able to kick your fundraising up a few notches, with Text-to-Give, our Supporters CRM tool, data integration, analytics, and even more opportunities to customize your checkout process. And, most importantly, you'll be able to seamlessly integrate all of these tools with your website and donors you pick up on your donation page.

Advanced subscriptions have one low cost: $99 per month. We'll give you a free 30-day trial to test it out (including Text-to-Give and the donation form). Interested? Contact us, and start your free trial today!
The Science Behind Donation Technology
It's no secret that attention spans are short. And online, they're even shorter. You have 7.5 seconds to get to the point of a webpage before you risk losing the attention of the person visiting it. That's why it's essential to ensure donation processing on a nonprofit donation page is as simple, fast and convenient as possible.
Optimized for Donor Convenience
Mightycause's donation solutions are optimized to get donors in and out quickly. Our team worked rigorously to design a checkout process that makes it as easy as possible to complete a donation. There are no duplicative fields to fill out, no wasted time. Donors can autofill their information from their browser, allowing them to quickly and easily enter their names, addresses, and credit card numbers. Unlike PayPal, creating an account on Mightycause or logging in to any account is not required. Our embeddable solutions keep the donor on your website so their attentions don't wander, and they are more likely to complete their donations.
The Mightycause team extensively tested our donation form before releasing them. We didn't want any barriers between your donors deciding to click "donate" and completing their donations. So, when you embed our donation widget or donation for, you can be certain that it is the most efficient solution available.
Mobile-Responsive
Our embeddable donation solutions are mobile-responsive, meaning they adjust to the size of the screen they are being view on. And that means that donors can donate anytime, anywhere, from any device. So, you'll never lose a donation because your nonprofit donation page is hard for people to see on a smartphone or tablet.
Ready to Get Started?
Getting the widget or form on your nonprofit donation page is easy. The first step is getting your nonprofit set up on Mightycause. Once you're set up, you can customize your Donor Experience settings, embed the widget on your website, or start your free 30-day trial on Advanced to get the donation form.