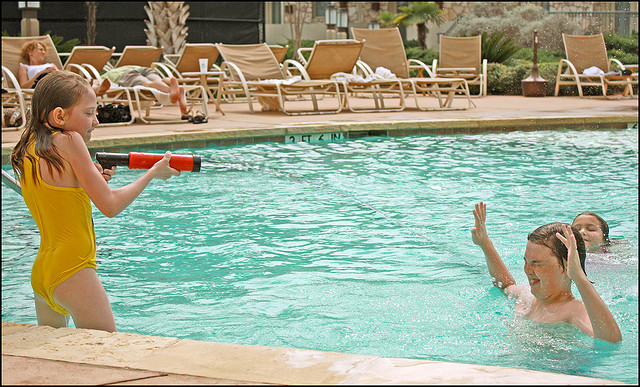 Nonprofits and gun makers are very different, but not when it comes to marketing. I learned that by watching the evolution of Smith & Wesson, a gun manufacturer based here in my home state of Massachusetts.
Like the nonprofit industry, the gun industry is in the midst of a revolution that has its own share of upheaval and danger.
The future is female.
Smith & Wesson has gotten the memo on the marketing power of women. It turns out that women are interested in a lot of things, including guns. According to one study, gun store owners had seen a 75% increase in female customers. The dramatic increase in women gun users may have been the motivation behind this pink gun to support breast cancer causes.
Another consumer segment for gun makers are gay gun enthusiasts. The NRA recently hired its first gay news commentator, and gun makers will need to adapt to woo groups like The Pink Pistols.
My point is that every business and nonprofit has to better segment its target demographic and have a strategy for including everyone. Not having one means you won't survive.
Millennials are packing.
Much is made of how Millennials—men and women born after 1980—want to work for socially responsible companies and dedicate themselves to a larger cause. But they also want to be armed. The product of a violent, video game culture, Millennials are "very interested in firearms," according to the CEO of Smith & Wesson. If nonprofits hope to woo Millennials, they should consider their "gaming" background and make fundraisers fun, challenging and social.
Learning from consumer product marketers.
Nonprofits are taking marketing cues from consumer product companies by increasing marketing research and evolving with consumer tastes. They aren't the only ones. Smith & Wesson is moving away from the Dirty Harry pistols they are known for and making smaller, lighter pistols that can fit in a pocket or purse. Nonprofits and businesses must continue to give stakeholders what they want.
Addressing controversy.
Gun makers have a big challenge: they have to prove to the American people that guns are safe and can be kept away from dangerous and unstable men and women. Their ability to deal with controversy and adapt are key. It's a lesson that gun makers and nonprofits are learning together.
After several marketing disasters, including one embarrassing partnership with fast food giant Kentucky Fried Chicken, Komen for the Cure joined with the New York Attorney General's Office to create new cause marketing standards. These new guidelines give consumers better information and a clearer understanding of how their donations are supporting breast cancer causes. Komen is trying to be part of the solution.
Sadly, gun makers have more than chicken grease on their hands. Smith & Wesson and others will have to adjust their sights. Nonprofits should watch and learn. To hit their target they'll need all the help they can get.