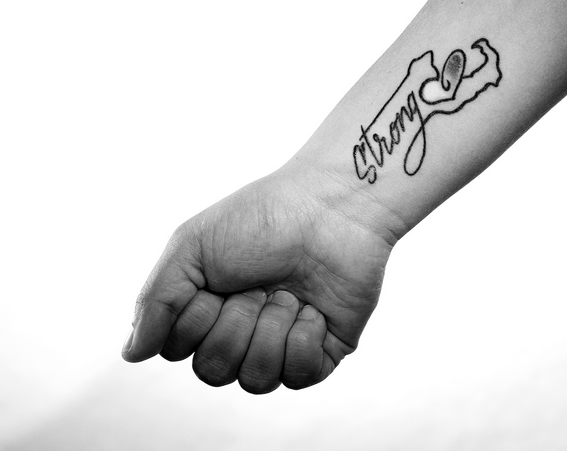 Inspiration to give and support good causes is all around us, including in the businesses we visit. For Chris Padgett, it was after the Boston Marathon Bombing in 2013. He was at a tattoo parlor on Boston's North Shore.
In April of 2013 I, like hundreds of other people around New England, found myself waiting my turn in a tattoo shop. Good Mojo Tattoos in Beverly, Massachusetts, was offering Boston-themed tattoos to memorialize the lives and innocence lost due to the bombings at the 117th running of the Boston Marathon. All of the money Good Mojo collected was donated to The One Fund. It was in that lobby that I came up with the idea to photograph these memorial tattoos and the people they were attached to. Too often we see a persons tattoo, but don't have the time or courage to learn the story behind it. This idea, and these stories, became Bled for Boston.
25 percent of the proceeds from the book benefited Spaulding Rehabilitation Center, the facility at which many bombing victims recovered. Inspired by a business, Chris is used another business, Blurb.com, to produce his book.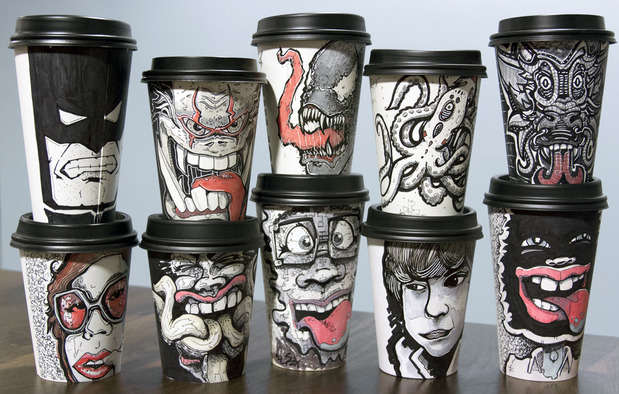 For artist Miguel Cardona, inspiration came from a visit to a local cafe. Coolhunting.com recounts what happened next. The artist's hobby began last year when he visited a cafe close to where he was working. The barista tied a napkin around the cup and Cardona's imagination got the best of him—the napkin became a scarf on a hipster-type character he created on the cup. The next day the scarf became a Ninja Turtle's mask, then a doo-rag. These artworks are drawn freehand on disposable paper cups. Miguel sells them and donates the proceeds to Project Night Night, an organization that helps donate baby blankets, children's books and stuffed animals to children in homeless shelters.
Miguel and Chris highlight an important point I've been making since last April. The future of business giving is empowering men and women to support their favorite causes. This can take many forms—from a direct contribution to business services to inspiration!
It's tempting to obsess over business and nonprofit partnerships. I've done this myself. But, to paraphrase a wise man, it's like we're diverting ourselves with a smoother pebble or a prettier shell than ordinary, whilst the great ocean of opportunity with people like Chris and Miguel is right before us.
Has a business inspired or helped you to support a good cause? I'd love to hear about it.