Email strategy can make or break a fundraising campaign. And during year-end, most people are inundated with emails. Holiday sales, coupon codes, charities soliciting donations. It's hard to rise above the din of new email notifications this time of year. And having your emails opened, and links and buttons clicked, is essential. Here are some nonprofit email marketing strategies and best practices that will help you stand out from the holiday-season inbox clutter.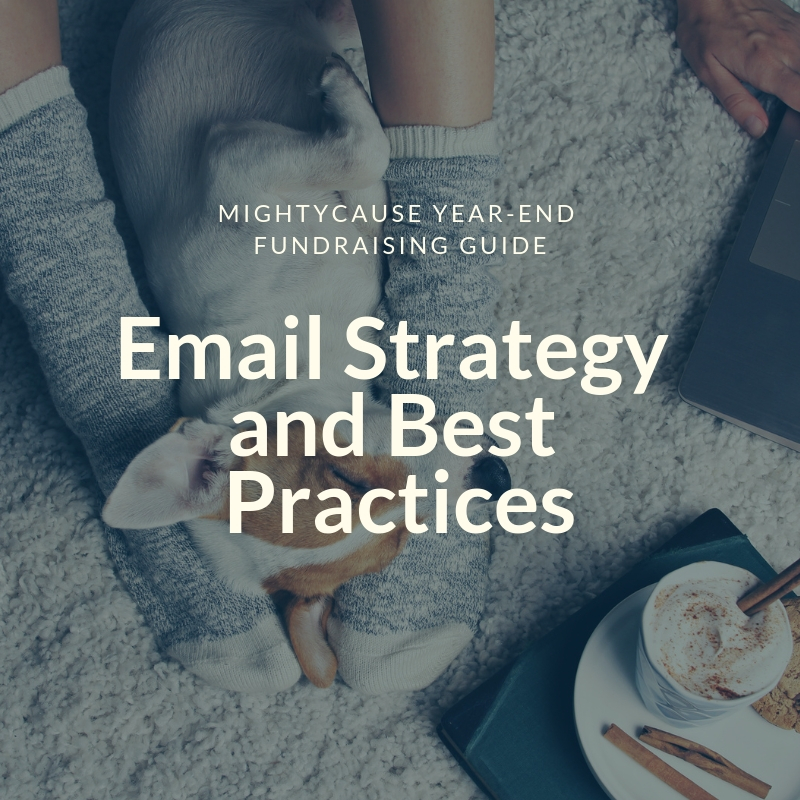 Grow your email list
Emails provide a direct line of communication with your supporters. Social media algorithms determine where you'll end up on a supporter's Facebook feed, but you know where you'll end up when you email them. In their inbox! So the first part of creating a successful email marketing strategy is building a robust email list.
Look for opportunities to get email addresses
If you're like most nonprofits, most of the people on your email list have made donations. But you may be missing great opportunities to capture your supporters' email addresses! Do an audit of what you're currently doing to get people signed up for your emails. Where can you add new opportunities to sign up? Here are some common places nonprofits often neglect to capture emails.
Your website
Take a look at your website. Do you have a spot where visitors can sign up for your emails? If not, add one! You don't need any advanced coding knowledge to put a sign-up form on your website. You can add a pop-up requesting that people sign up for your newsletter with programs like Opt-In Monster. If you have a WordPress site, there are tons of plugins that will help you out. Your website is often the first place people will go to learn more about your nonprofit. Most of them have options so you can have the pop up display when you want, either after a certain amount of time on your page or after reading/scrolling through it. So, when someone expresses interest in your work by visiting your website, make sure you give them an opportunity to sign up for your email list!
Events
There are a lot of little details to remember when you're planning events. But one you should definitely not overlook is having a sign-up sheet for your email list! That way, when you make those personal touches with people in your community, you can stay in touch. If you have a booth at a community event, or have a gathering at your facilities, bring along a clipboard with an email sign-up sheet. Train your staff and volunteers to ask everyone they speak with to sign up for your emails.
Social media
The great thing about social media is how easily it helps you connect with people … but that can be a mixed blessing if social media is the only place you're connecting with them. People leave social media platforms all the time, get new profiles, and they might be gone from your online network forever. The good news is that most email marketing software, like MailChimp, have ways for you to add newsletter sign-up forms to your Facebook page. Post once in awhile asking people to sign up and take those social media connections to the next level!
Direct mail
Direct mail marketing is an old standby of nonprofit fundraising. It's reliable, it's effective and it's essential. But do you have a spot for donors to list their email address on your forms? Check with your direct mail company! You can also include fun things like inserts and magnets asking direct mail donors to sign up for your emails.
Segment your emails
We talk about this a lot at Mightycause, but that's because it's important! Your donors are individuals. They interact differently with your nonprofit. They donate at different levels, and in different ways. So when you email them, talk to them as individuals!
What is email segmentation?
Segmenting your emails just means splitting up your email list. Group A gets one version of an email, group B gets a different version of the email. (This is different from A/B testing, which we'll get to in a minute.) You determine your email groups (or "segments") by looking for groups of users that have things in common. For instance, one segment might be volunteers at your organization. Board members would be another segment. Recurring donors, one-time donors, and people on your list who haven't yet donated are other segments you'll want to create. The purpose of email segmentation is increasing the chances that you'll get an open, a click and a donation by tailoring your email to the audience you're sending it to.
Finesse your ask
The "ask" is what it's all about in nonprofit fundraising. As part of your email strategy, make sure you have an ask that is appropriate for each segment. For non-donors, your ask may be on the low end: "Please give $10." For your recurring donors, you may want to have a moderate ask like $50 for your year-end campaign, taking into account the amount they give throughout the year. And when you're asking your volunteers to make a donation to your year-end campaign, you'll want to make sure you preface it by acknowledging the tremendous contribution of their time.
Segment according to behavior
Another helpful way to segment your emails is by behavior. Email marketing software with automation or "drip marketing" tools will help you do this much more easily. If a donor gave a big gift on #GivingTuesday, you don't want to send them an email asking for another donation just a few days later, do you? Segmenting your lists and sending your year-end kick-off emails at strategic times can fend off the dreaded "donor fatigue" and help you see greater returns on your email efforts.
Use Mightycause's Supporters pages
Did you know that you have a tool that will help you segment your email lists available right now? For free? Mightycause offers free trials of our advanced fundraising tools, including the Supporters CRM tool.
With the Supporters CRM tools, you'll be able to view and download a dashboard of all of your donors and people who've organized fundraisers for your nonprofit.

When you click on your Supporter's name, you pull up a detailed record of what they've done for you on Mightycause. You can see how much they've donated, how much fundraisers created on your behalf have raised, and personal information that will help you communicate with them.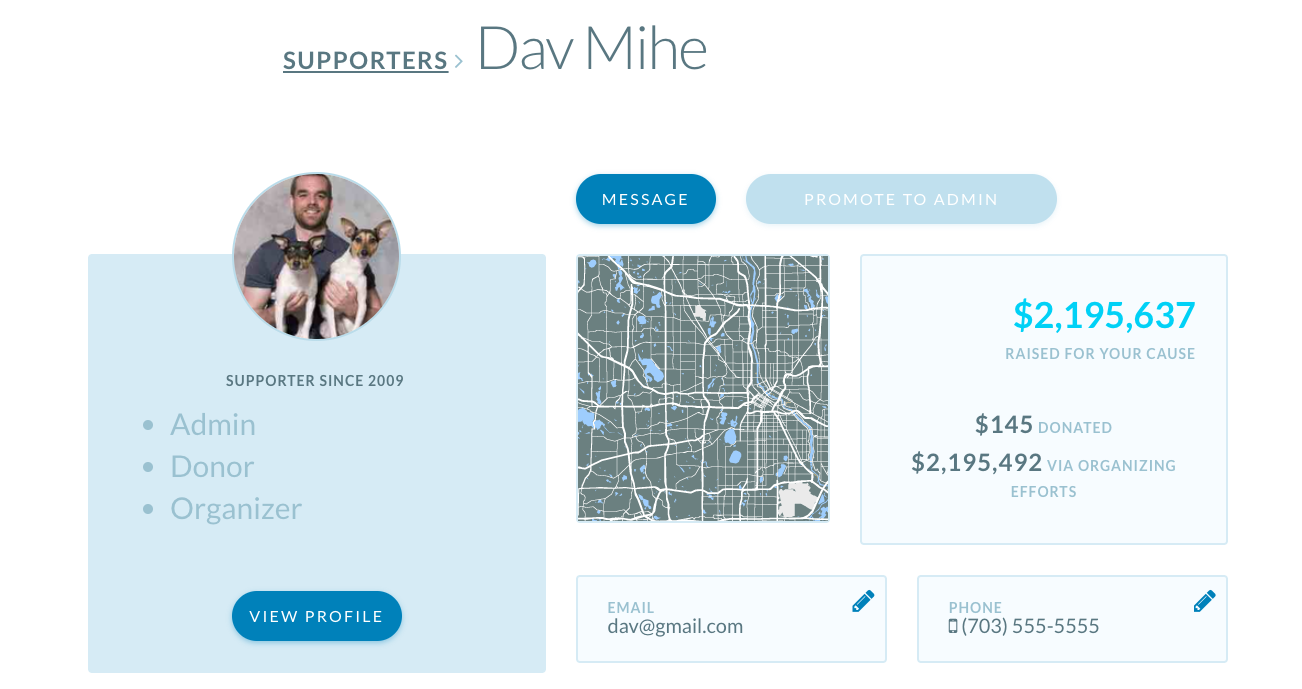 And where the Supporters tool comes in handy for email segmentation is with Custom Tags. You can add a tags to each Supporter record, such as "fundraiser" or "recurring donor." Then, when you download a report of your Supporters, you'll already have them segmented by tags! And you can easily uploaded your list into the email marketing tool of your choice.

You can start your free trial of Advanced today so you can see how tools like Supporters help support and streamline your fundraising efforts when it counts!
When to send emails
One of the most-asked questions about email marketing is, "When is the best time to send emails?" The truth is that there is no magic hour or day to send emails. The best time to send will also depend on the individual user. But, with that said, we've got some guidelines you can follow as well as a few must-send emails to help you start scheduling.
Check your analytics
Past behavior is the best indicator of future behavior, as they say. So pull analytics from last year and see if you had any emails that were particularly successful. When did you send them — what day and time? If you had any that didn't get the opens and clicks you wanted, take note of the day and time they were sent. You shouldn't draw any sweeping conclusions, however. Look at the whole picture. If an email sent on a Wednesday morning flopped, take a look at the full email (include subject line, content, etc.) and make sure you understand why it didn't work. Send date and time could be a factor, but there are many factors at play! Look for patterns. If every email you've sent on a Wednesday flopped, that might be a good indicator that it's not a good time for you to send emails.
Consider when people get paid
Have you ever gotten an email about a great sale at a store you love, but been disappointed to realize it's two days before payday and you can't afford to take advantage of the deal? And by the time you get paid, you likely forgot about the sale. Getting an email from your favorite nonprofit asking you to donate when you're waiting for your next pay check can feel a lot like that. So, make sure you factor in when most people get paid: Fridays, and the 1st and 15th of the month.
Christmas (or close to it!)
You don't have to send something out on Christmas day, but you should plan on at least one holiday-themed email close to December 25th. The reason is that lots of people are in a "giving" mindset, have some time off work (and therefore more time to read personal emails), and the message of remembering to give to your nonprofit this holiday season is simple and effective. You can also infuse the email with gratitude for your supporters and all they help you accomplish. This year Hanukkah and Christmas sync up quite nicely (Hanukkah begins on Sunday, December 22nd, just a few days before Christmas) so you can include both holidays in your email to reach more people.
December 30th and 31st
These are two of the biggest days for nonprofit fundraising! You'll want to make sure you have emails scheduled for these days — and you'll want to use your heaviest-hitting content in these emails. Don't worry about sending emails two days in a row. While we wouldn't normally recommend that, these two days are so vital that you can throw the typical "rules" out of the window. A video detailing all your nonprofit has accomplished during 2019, or featuring some stories about your impact, are great ways to make a splash with your final emails of the year. If you have some important metrics from the year you want to share, you may want to work with a volunteer graphic artist to create some snazzy graphics or even an infographic to insert into your email. (Check for volunteers skilled with graphic design, or consider hiring one from Fiverr.)
Subject lines
The issue of email subject lines can be a surprisingly contentious one! Personalization or no? Long or short? To use emojis or not to use emojis? But regardless of the personal preferences of your staff, there are general best practices you should follow to deliver a subject line that gets opens.
Short and sweet
There's no statistical link between subject length and opens. But more people than ever are checking their email primarily on their phones. So, that means shorter is better, because most email apps will truncate long subject lines. And that means you could spend hours crafting the perfect wording for your subject line, but most of your recipients will only see the first 50 characters of it. That's what they'll be basing their decision to open your email on. Different apps and different phones will display a different number of characters so it's better to make your subject line short and not risk being truncated.
Be descriptive
There are different lines of thought about this in the email marketing industry, but in general, it's nice to let your supporters know what your email is about. You don't need to be overly wordy, but avoid clickbait-y subject lines, or subject lines unrelated to the content of your email. Your subject line should give a good general idea of what your email is about.
Personalize … carefully
Personalized fields can be a great way to make your recipient feel like this email was written just for them. Most email marketing software allows you to add personalization to your subject line easily, but beware! Make sure you have the information you need about your recipients to add the field. Nothing guarantees that a subject line will not lead to an open better than having a subject line like, "Help us help them, [NAME]!" So before you personalize, make sure you have the info you need, and test it multiple times to make sure the personalization works! If you're not 100% confident after testing, remove the personalized fields. Better safe than sorry!
Content
Ultimately strong content will be the key to a successful email campaign. But what's "strong content?" How do you build your email so the reader is inspired to click your link and make a donation?
The first link is the most important
You'll probably see this reflected in your own analytics, but the most-clicked link in emails is usually the one that appears first. So that first link is prime real estate! Don't use it to link to a sponsor, or your homepage. Make sure your first link is to your Mightycause page, where people can complete a donation. People also tend to click the first image in an email, so make sure all of your images are hyperlinked to your Mightycause page as well!
Format and test for mobile
You're going to build your emails from your desktop computer, but that's not how most people will be viewing them. More and more, people are reading their emails on their phones. So make sure to choose a mobile-friendly template for your email, and avoid "newsletter" formats with columns of content and sidebars (since these stack on mobile devices and can look a little wonky). Send out a test email to a few different people, on different devices (iPhones, Droid phones, tablets), to ensure it looks good on desktops and phones alike. Something that looks awesome on desktop may look really weird or have broken formatting on mobile, so testing is key!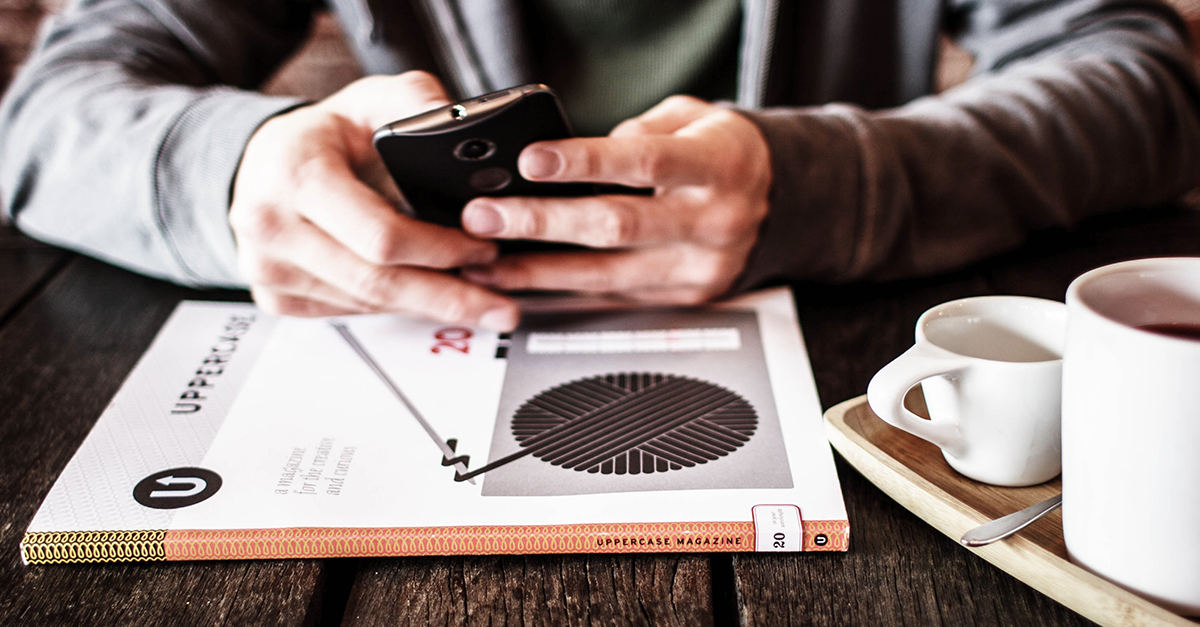 Brevity is the soul of good email content
Especially at year-end, you may be tempted to write an essay about the importance of supporting your nonprofit. But people on the internet have short attention spans. Not many people are likely to make it through a 6 paragraph email. (Think about it. Would you read an email that long?!) So you'll want to be impactful, thoughtful and brief. Avoid walls of text. Make the most important points of your message stand out with bold text and headers. Write simple, non-fussy copy. (Free online readability testers can help you clean up your copy.) If you have a lot you want to communicate, think about incorporating other kinds of content like videos, infographics and images to keep your email from being too text-heavy.
It's all about the CTA
CTA stands for "call to action." So, when someone reads your email, what do you want them to do? What are you asking of them? Obviously for year-end the CTA is "make a donation." Make sure it rings loud and clear in your copy, your images and that you provide a clear path (such as a button) to doing whatever it is you'd like the reader to do.
Segment your CTA along with your lists
So, as we said, we really hope you're segmenting your emails. But if you just send everyone an email with the same "Donate Now" button, does it really make a difference? Use segmenting to get more specific with your CTA. You may wish to leave it more general and open for big donors (such as, "Make Your Gift"), but suggest actual donation amounts to others. What amounts do you have in your Mightycause's page's custom donation suggestions? For donors who have only given once or who tend to give in small amounts, why not suggest the lowest custom donation suggestion? For mid-level and recurring donors, move up to a higher amount. And of course you'll want to make a compelling case for giving that amount in your email. What does it provide? How does it help you? Getting specific helps because it can push people up to a higher donation level and takes the decision of how much to donate out of their hands. (Uncertainty over how much to donate can make people opt-out of donating altogether.)
Test different button placements
It's alternatively frustrating and funny to think that the placement, color, or size of your email's button could be the determining factor in whether someone clicks it and makes a donation, but that's how it is. We'll talk more about A/B testing a bit further down, but you can optimize your CTA by testing to find the most effective placement, design and size for your CTA button. Some email marketing software will make it easy to automate this type of testing, and some will make it a little more manual. But since this is such a high-stakes time for your emails, and your CTA button is a key part of your emails' success, try some different things and test to find what works the best!
A/B testing
When in doubt, A/B test! A/B testing can help you refine your email marketing techniques by giving you valuable data about what works and what doesn't.
What is A/B testing?
A/B testing, often called "split testing," is an experiment where you test two variables against each other. So, in a 50/50 split to test for the most effective subject line, Group A would get an email with one subject line and Group B would get the same email with another. You'd measure the results (how many people clicked to open the email, in this example), identify the winning subject line and then let that inform your future decisions about subject lines. Typically you want to A/B test on a small scale, low-stakes email instead of testing with ones that are make-or-break for your year-end email strategy. You can also change up the testing ratios — for instance, try a 20/20/60 split. That means 20% of your email list gets Email A, 20% gets Email B, and 60% get the winning email.
Benefits of A/B testing
Successful email marketing is more of a science than an art. That's why data is important. A/B testing gives you the data you need to determine what works and what doesn't, so you can focus on building emails that get the results you want. A lot of us have our own personal taste and preferences when it comes to emails, but A/B testing helps you focus on the data, and how your actual recipients interact with your emails. It'll help you refine your emails' content, appearance, and more.
Is it too late to A/B test for year-end?
No, it's not! Remember, you can test in smaller groups and different ratios to get the data you need and send the winning email to the remainder. You can also test things like button placement, appearance and other variables that aren't specific to your content within the email when you send out emails unrelated to year-end fundraising.
We hope this guide to email strategy helped you get started, get some new ideas to refine your year-end fundraising, or helped you brush up on your email marketing skills! Download our End-of-Year Fundraising ebook for more tips and inspiration!