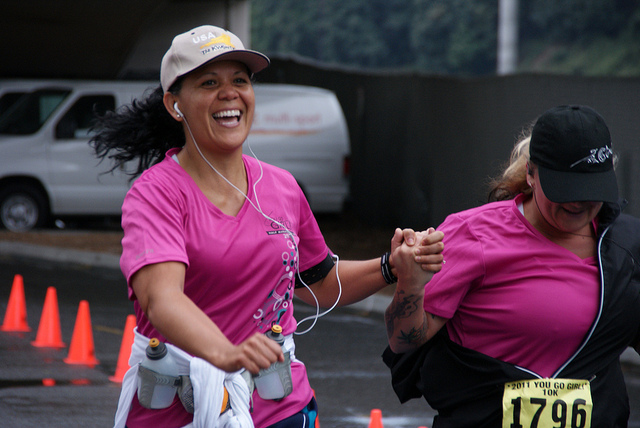 Do you like to run? Do you like to help good causes? Thanks to running shoe maker Saucony you can now do both.
Run and Do Good
Saucony has launched a new running app, Run4Good, that allows you to track your miles and fight America's obesity epidemic by supporting five different youth causes. The good news is that Sauconey has already made a commitment to these causes, which include the American Diabetes Association. But when the community of runners using the app hit the monthly running goal, Saucony will double its donation.
For example: Saucony has pledged $10,000 this month, but the shoemaker will double its gift if runners log 10,000 miles on the app in September.
After you download the app–iPhone only–press Start Run. The cool thing is that the app logs all sorts useful information, such as total time, pace, and calories burned. You can even track your personal record for running the mile or 5k. Runners will like this slick app for all the bells and whistles if offers. Do-gooders will like the community board that tracks total miles and just how close users are to doubling the gift.
Of course, you can find Run4Good in Apple's app store.
Eat and Do Good
But don't stop there. Another app combining wellness with giving is WannaBeWell, which motivates and educates consumers about healthy living. I like the fact that you can customize your very own personal trainer to deliver daily messages. I chose a drill sergeant! For each download of this app, Life…Supplemented, the company behind the app, will donate $1 up to $13,500 to Vitamin Angels, an organization that ensures children worldwide get the nutrients they need.
Shop and Do Good
Of course, you don't spend all your time exercising. You do other things, like shopping. You can make a conscious choice not to buy products made by child laborers by downloading the Free2Work app for iPhone and Android. Just scan the product barcode and the app grades the companies labor practices.
Pay and Do Good
Once you choose your socially responsible product, you can pay for it with the mobile payment app LevelUp. As I wrote last week, you get loyalty credits when you pay with LevelUp at participating business. For example, if you pay your $40 restaurant tab with LevelUp you could earn a $5 credit for your next visit. Now, LevelUp lets you use all or part of that credit to support a cause.
Here's an idea. Start with the app WannaBeWell to develop a new healthy lifestyle. Run to the store with the Run4Good app, and use Free2Work to pick a socially responsible product. Then pay with LevelUp.
Who knew your smartphone could do so much good!