If you use Pinterest to engage your community, you probably already know what makes it so powerful for nonprofit marketers:
It's one of the fastest growing social networks ever. Close to 50 million users, according to comScore.
It's the first social network dominated by women.
It's one of this few social networks where people make purchases and donations.
So Pinterest is huge… But how should you use it for your organization?
Five Pinterest Board Ideas to Steal From This Dog Shelter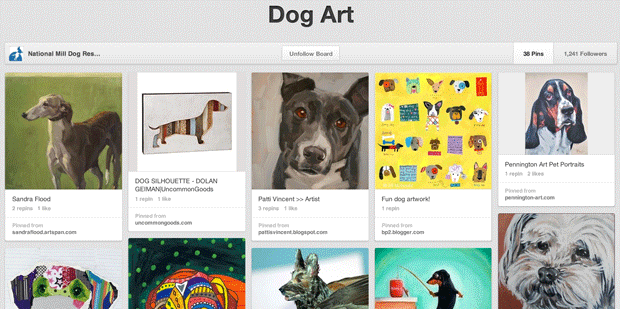 Take a cue from National Mill Dog Rescue's presence on Pinterest. They seem to get a lot of re-pins, and their boards have lots of followers.
Plus, they've garnered a healthy amount of inbound links to their site.
Here are five boards they've created that will get you started with some ideas:
Before & After – Extreme makeover reality TV has set us up for this one. NMDR posts pictures of dogs before and after they give them a bath, manicure, and a smile on their face.
Amazon Wish List – National Mill Dog Rescue has an Amazon account wish list of needed products and supplies they need the shelter. This board is simply a compilation of the most interesting items from that wish list.
Doggie Treat Recipes – People love sharing their recipes on Pinterest, and National Mill Dog Rescue knows this. Bacon Bark Sticks anyone?
Dog Art – What I'd love to see his artwork made by dogs. But artwork of dogs will do just fine. This board taps into another Pinterest audience – artistic dog lovers. Is there a common shared lateral interest among your audience?
Dog Care Tips – Extremely useful for new dog owners. National Mill Dog Rescue understands that being truly useful to their community is the sure way to long-term growth.
What creative ways is your org using Pinterest?