The world of Facebook marketing has drastically changed over the past year.
For many pages, it's become harder to get organic reach in the newsfeed since Facebook went public.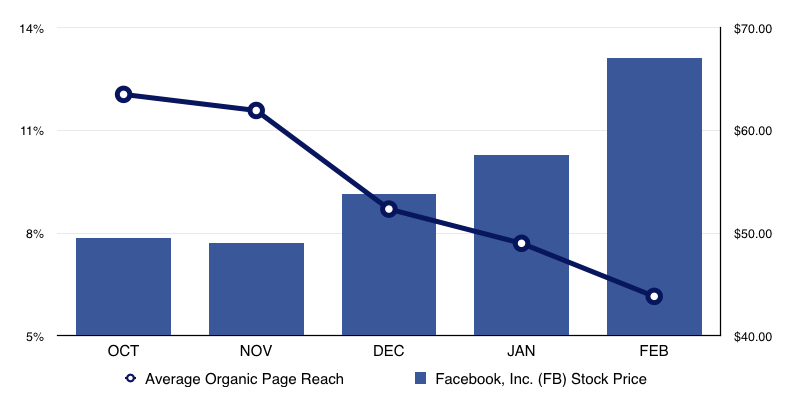 How long will this trend continue? Who knows! Every single day, more businesses are trying to reach the same people on Facebook that you're trying to reach.
Facebook has also added a ton of new advertising features, like retargeting, custom link posts, and third-party consumer data.
Finally, Facebook has redesigned Pages and published new guidelines for contests.
With all these changes in mind, here are five new dos and don'ts to keep in mind:
1. DO: Increase Post Engagement with Timeline Contests
There are many ways to deal with declining reach on Facebook, but one way consistently works time and time again: Timeline contests.
Timeline contests boost engagement by offering a prize in a Page update. For example, you can post a question and reward a correct answer.
You can reward fans and visitors for:
Posting on your Page (including photos)
Private messaging your page
Liking a page post
Commenting on a page post (including comments with photos)
Accumulating likes on their posts or comments (including comments with photos)
2. DO: Piggyback Trending Topics
Over the past year, Facebook has added trending topics to the righthand sidebar (as shown above).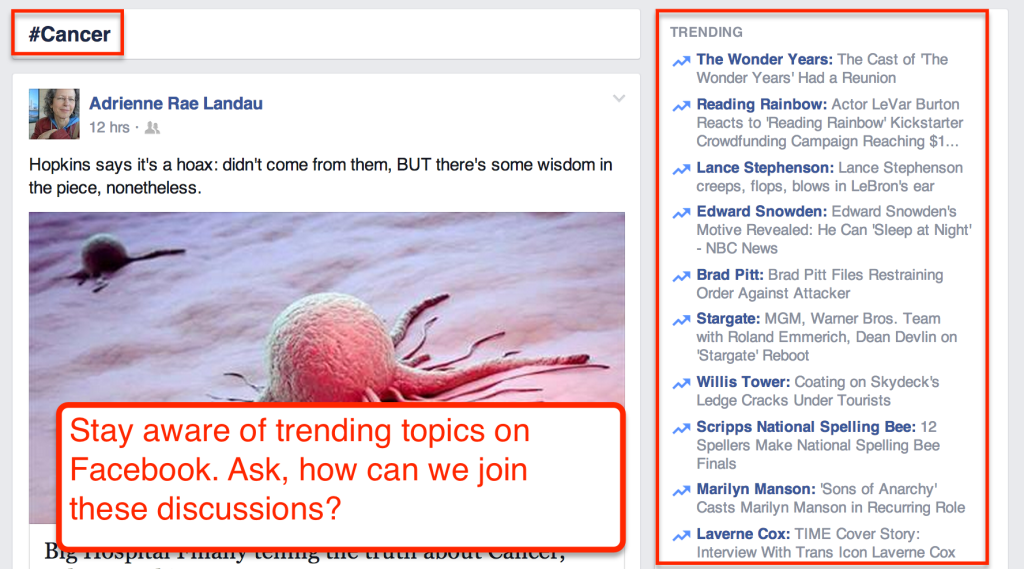 Trending topics are stories that are displaying "a sharp increase in popularity". Your personal interests are also factored into the the algorithm for trending topics.
Trending topics are listed in reverse order, starting the most trending stories at the top.
Get started with leveraging trending topics:
You can get more reach for your page updates by posting updates about trending topics when it makes sense.
Ask yourself: "How can we join these discussions? How is our cause connected—even indirectly—to this topic?". For example, a women's rights org, might explore the Brad Pitt story shown above.
Don't force a connection. That might confuse people. Just follow your intuition about what seems like an obvious and natural connection.
3. DO: Share Posts from Pages Your Fans Like
A quick and easy way to increase engagement on your page is sharing posts from other pages. Not only does it save time, it increases engagement and reach!
The idea is to share posts that already have a high level of engagement, AND are relevant to your Facebook fan base.
For example, a breast cancer foundation sharing posts about breast cancer friendly clothing from a local retailer who supports the foundation.
To share posts from another page, you can follow these simple steps:
Select top-performing posts from pages that most of your fans like, and sharing only the posts that your fans will like.
When you share a post, make sure you've selected the Page you manage, and not your personal timeline (as shown below).
After you've shared a few posts from other pages, you'll have enough Facebook Insights data to see how effective this tactic is.
4. DON'T: Publish "Like Bait"
Facebook found that "people prefer links to high quality articles about current events, their favorite sports team, or shared interests, to the latest meme."
This means that high quality articles will be slightly more prominent News Feeds, and meme photos will be less prominent.
It's important to note that this News Feed enhancement will only affect links—not videos, text updates or photos you post to your Page.
So if you post a picture of Grumpy Cat on your Facebook Page, you should be fine.
To Do: Start developing ways to create high-quality content that you own. If you don't have a blog for your nonprofit, consider starting one.
5. DON'T: Spray and Pray Facebook Ads
Using Facebook ads correctly requires a bit more than clicking "Boost".
Here are three quick tips for getting more from Facebook Ads:
Define your audience: Who are you trying to reach on Facebook? Current donors? Facebook Page fans? Understanding your audience helps you effectively target Facebook ads.
Write down your objective: Do you want more website visits or more engagement on Page posts? The more clear you are about your objective.
Only promote awesome: Investing in posts that already have a high engagement rate will get you more likes, comments and shares, which translates into more overall engagement and reach in the long run.
6. DO: Focus on Creating Value for Your Community and Cause
The anchor for all of these points is have a fan-focused attitude. How can you be useful? How can you work WITH your fans, towards a common goal?
What are your dos and don'ts?