Last month, Facebook rolled out the new Facebook Pages design to all Pages.
This redesign of Facebook Pages is intended to help admins "find the tools they use most". The layout is also meant to display posts more consistently on desktop and mobile.
Here are 7 Facebook Page features you need to know about (also see screenshot below):
New admin navigation and tools: There's admin navigation at the top of your Page (activity, insights and settings). It looks simple enough to me, and I'm sure they designed it with that in mind.
Build Audience Menu: Mousing over the The Build Audience menu at the top right displays a few key stats (page likes, reach, ads running), and offers direct access to your Ads Manager account.
Right-side timeline column: Your posts will have the same appearance whether viewed on your Page or in the News Feed. To accommodate this change, posts on your timeline are now displayed in the right column.
Left-side info column: Information about your nonprofit or business. Phone number, address, website URL, photos, videos, etc.
Custom tabs are no longer above the fold: Custom apps are now located in the left column under the info box. Tab icons are still 111 pixels by 74 pixels.
Pages to Watch: One of the best new features is an enhanced Pages to Watch, a benchmarking tool that allows you to compare your Page's performance with other Pages (peers, competitors, sponsors). Stats include total page likes, new page likes, number of posts, and engagement.
See top content from Pages you're watching: You can also view the past week's most engaging posts from Pages you're watching, within your Insights "Posts" report.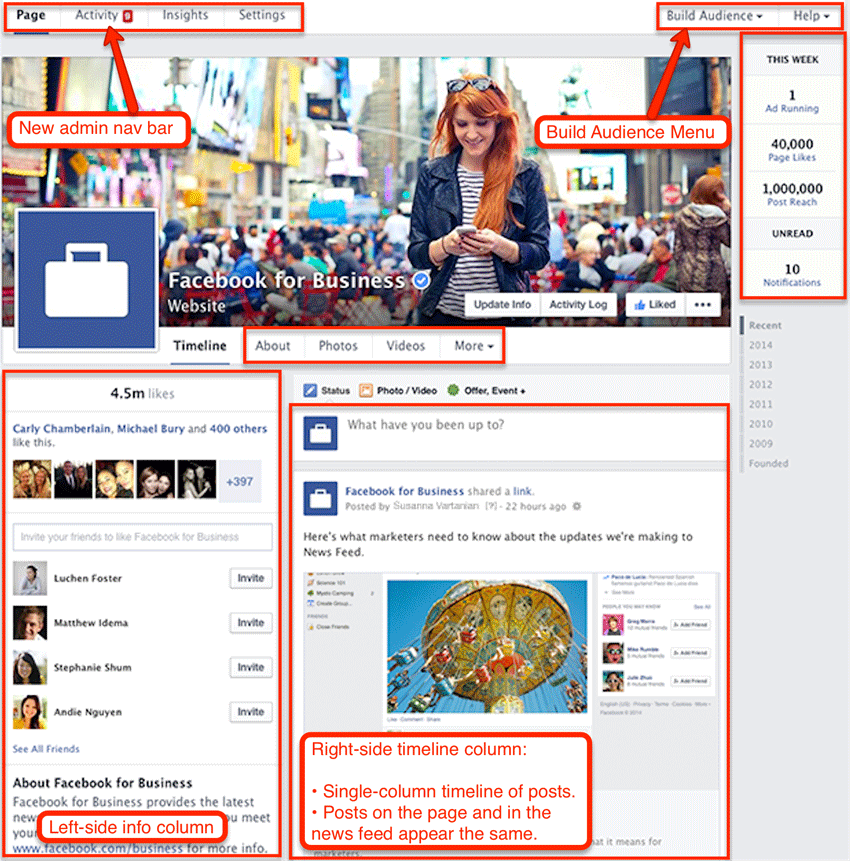 What You Need to Know
BENCHMARKING: Previously, the only benchmark available was Page "likes", which alone is worthless. Now you can benchmark against the competitors, peers, partners.
IMAGE SIZE: Facebook is drawing a line in the sand regarding their layout – particularly, how posts appear in the News Feed. Read this post to learn more about optimizing your website images for Facebook.
NEWS FEED RULES: Most Facebook users who interact with your organization, do so in the News Feed. The new Facebook Page layout might cause a short-term burst of curious people (reach / engagement tend to increase when a new Facebook design rolls out). But beyond that, the new layout means very little to your posting strategy.
Do you like the new Facebook Page layout?