The world of Facebook marketing has drastically changed over the past year. With all these changes in mind, here are 9 new Facebook rules for nonprofits:
1. Focus on Your Fan's Agenda First
If you forget every other word in this post, remember this first rule:
Focus on your fan's agenda first. If you do this, you can't go wrong in the long run.
After all, Facebook is all about encouraging your supporters to tell their friends about your cause.
Focusing on their agenda will get their attention (likes, comments, shares) more than promoting your next fundraising campaign, which is about you.
2. Boost Engagement with Timeline Contests
There are many ways to deal with declining reach on Facebook, but one way consistently works time and time again: Timeline contests.
Timeline contests boost engagement by offering a prize in a Page update. For example, you can post a question and reward a correct answer.
You can reward fans and visitors for:
Posting on your Page (including photos)
Private messaging your Page
Liking a Page post
Commenting on a post (including comments with photos)
Accumulating likes on their posts or comments (including comments with photos)
For more on this strategy, read Facebook Timeline Contests—Everything Your Nonprofit Needs for Success.
3. Publish Link Posts to Drive Website Traffic
If your goal is to drive traffic to your website, try posting links, which can increase website better than photos or text updates.
Links to useful and interesting blogposts are the best type of link, but there are also:
Infographics
Ebooks
How-tos and tutorials
Promotional videos
Check out this article by PostPlanner, titled How to Use Facebook to Get More Donors [INFOGRAPHIC].
4. Ask Closed Questions to Increase Comments
Research shows that closed questions work better on Facebook then open questions.
That's because closed questions take advantage of the brain's built-in auto-complete feature.
Think about it: Instead of sucking up RAM formulating an answer to an open question, your brain simply has to spit out a yes or no, true orfalse, or some other choice between two predetermined answers.
The more specific your closed questions are, the more likely they'll receive comments.
For more on boosting engagement with text updates, check out Three Ways to Instantly Boost Engagement with Text Updates.
5. Leverage Trending Topics
Over the past year, Facebook has added trending topics to the right-hand sidebar (as shown below).
Trending topics are stories that are displaying "a sharp increase in popularity". Your personal interests are also factored into the the algorithm for trending topics.
Trending topics are listed in reverse order, starting the most trending stories at the top.
Get started with leveraging trending topics:
You can get more reach for your Page updates by posting updates about trending topics when it makes sense.
Ask yourself: "How can we join these discussions? How is our cause connected—even indirectly—to this topic?". For example, a women's rights org, might explore the Brad Pitt story shown above.
Don't force a connection. That might confuse people. Just follow your intuition about what seems like an obvious and natural connection.
Check out PostPlanner's trending topics feature.
For more on Facebook's trending topics, read 5 Nonprofits that Newsjacked Facebook During the Oscars.
6. Mention Pages to Boost Reach
Another recent shift in Facebook Newsfeed algorithm is how it treats mentions in Page updates.
When you mention another Page in update (like in the example above), you your update might be seen by fans of that Page.
As with many of the previously mentioned strategies, don't force a connection.
Only mention Pages in updates that are highly relevant to that page's community. For example, the update from the breast cancer foundation (shown in #12) could also mention the name of the retailer.
If the two Pages have a considerable overlap among the fan bases, fans from both pages might see this update.
7. Reply to Commenters
There's a setting in your Facebook Page that allows you to reply to comments within your Facebook posts.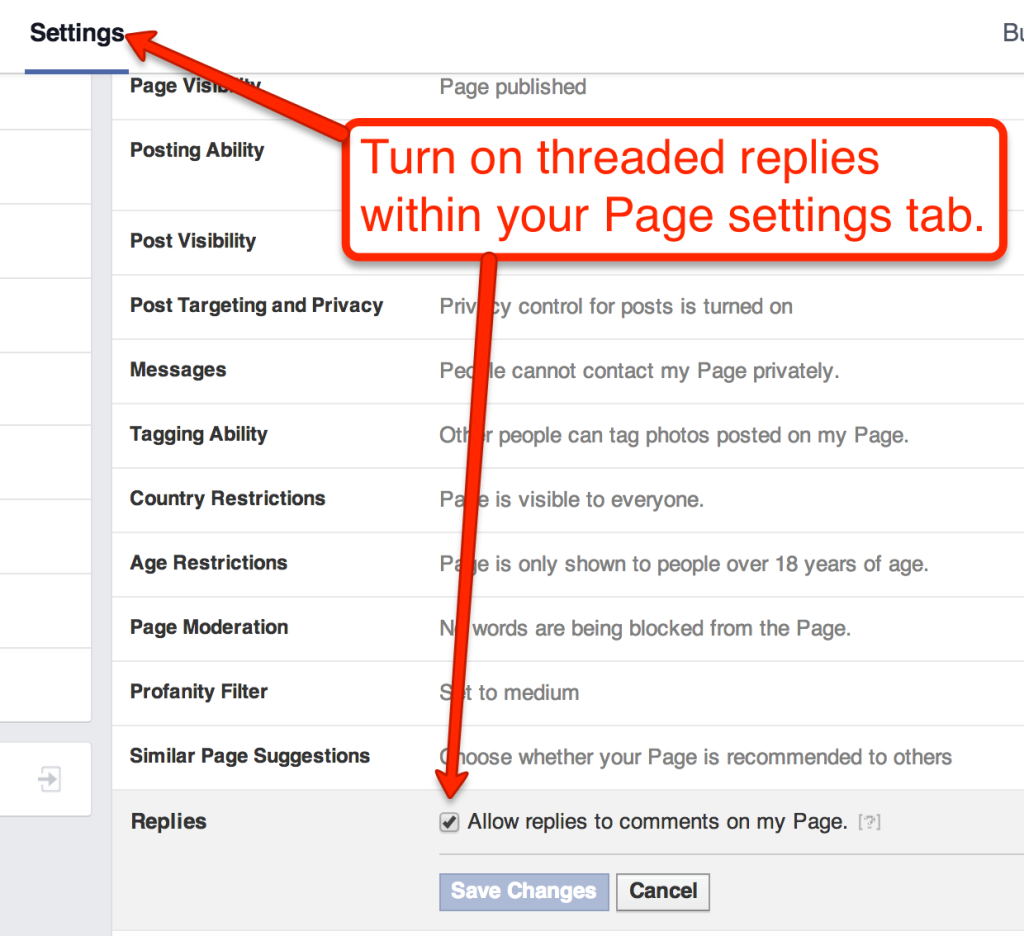 Selecting this option makes comment threads easier to understand, and more engaging (Facebook users often return to an update after you've replied to their comments).
Commenting regularly takes very little effort compared to the long-term payoff.
8. Tag Commenters
While you're replying to a comment, why not tag them as well?
Pages are able to tag people who comment on their updates. And when a Facebook user is tagged, they usually get a notification about it—prompting them to revisit the update.
To tag a Facebook user, simply type @ followed by the user's name until you can select their name from a list of suggested users.
9. Always Target Boosted Posts
A simple but powerful way to increase your Facebook ad effectiveness is to target wisely.
Facebook recently added the option to target updates in boosted posts.
To target a Boosted Post, select the "People you choose though targeting" option (shown below), and add the specific interests you'd like to include.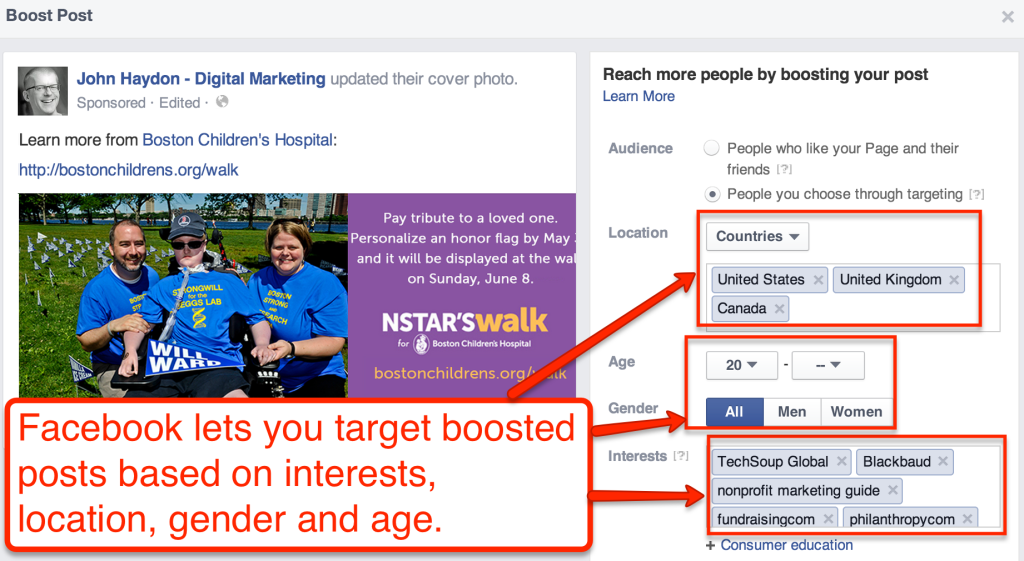 The next time you Boost a post on Facebook, your targeting selection will be saved, so you don't have to reinvent the wheel.
What do you think?