Mightycause has been in crowdfunding game a long time, and we were one of the first platforms to host online giving days. But the giving day arena is getting a little crowded. There are a lot of giving day platforms to choose from, and it can feel overwhelming. What features are most important? What platform is the most user-friendly? Where will you have the most options for customization? We're not here to talk down the competition, but we can tell you we have the best giving day platform in the industry. Here's why you should consider choosing Mightycause for your giving day platform.
1. We're giving day experts
Mightycause is an innovator in online giving days. We launched in 2006, and were in the giving day game while other platforms were just a gleam in a young entrepreneur's eye. We've learned a lot of lessons and have had the time to make our technology the strongest and most reliable on the market.
Dedicated project manager
When you host your giving day on Mightycause, you get a project manger to help get your giving day off the ground and see it through to the end. But they're not just task managers, checking items off a list.
Your project manager is a giving day expert. They've been in trenches and can help your giving day meet, and exceed, its goals. They will help keep your giving day on track, make sure your giving day site looks awesome, and provide guidance throughout the project. They know what works, and what doesn't. They've seen and analyzed the data from giving days across the country. They know what it takes to run a successful giving day. And their expertise is included with your giving day.
Experienced team
Giving days are unique challenges for an online fundraising platform. There are things you just don't know until you've experienced them, pitfalls to watch out for that wouldn't occur to you if you haven't been through a giving day before. And that's why experience is so valuable.
The team at Mightycause has been through many giving days. From our developers to our customer service staff, we know what to expect and we're prepared for anything your giving day throws at us. And, even better, we've spent over a decade refining our technology so it's got everything your giving day needs to go smoothly.
Nonprofit training
When you sign up to host a giving day on Mightycause, we're not just lending our expertise to you. To ensure the success of your giving day, we'll provide webinars to all of your nonprofits. From giving day basics to marketing to prize strategy, we'll help prepare them to bring their A game on your giving day.
2. We're reliable
A giving day is only as powerful as the technology behind it. As the host of the event, you need to be able to focus on spreading the word and building the buzz for your event, and not worrying if your technology will work as its intended. When you partner for a giving day with Mightycause, we've got you covered.
Scalable technology
Mightycause is capable of processing thousands of transactions per minute. Our platform is scalable, meaning that it's built to adjust to increased volume and traffic. On a giving day, that's important because you'll be driving as many people as possible to your giving day site. And they need to be able to make their donations quickly, conveniently and reliably. With auto-scaling and multiple layers of redundancies, Mightycause's modern platform architecture is built to ensure 100% uptime for our partners. We've hosted giving events that have raised millions of dollars and brought tens of thousands of unique transactions to our platform all in a single day.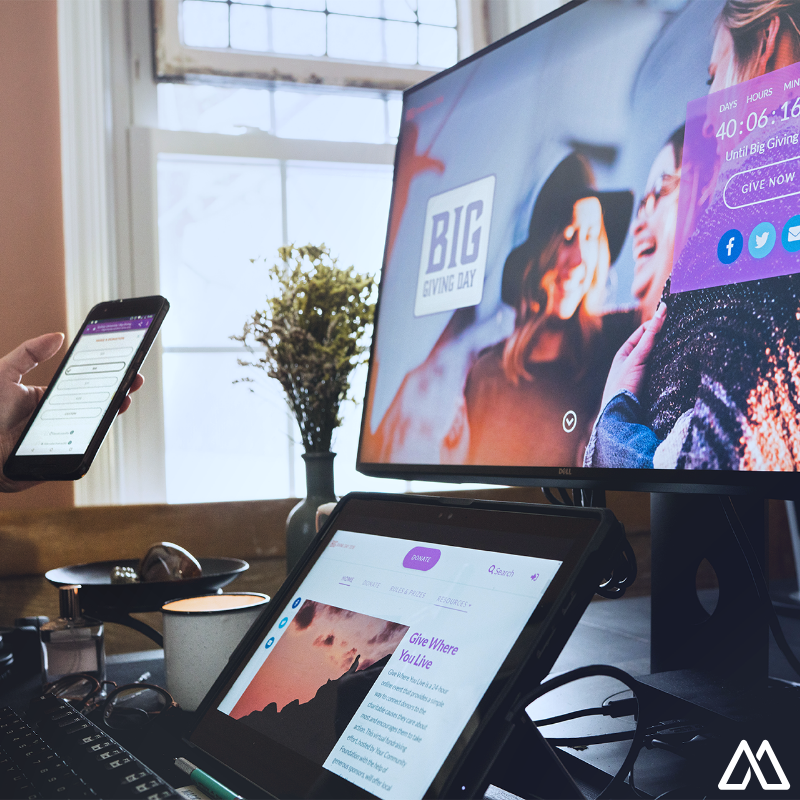 3. We make managing your giving day easier than ever
A lot goes into hosting a giving day. It's project management, customer service and event planning all rolled into one. So when you're choosing a giving day platform, it'll probably be a top priority to find one that makes your life a little easier. Your job is hard enough! And you'll also want to make sure it's easy to use for the participating nonprofits.
Well, we've got good news about Mightycause: we make it easier than any other platform.
User-friendly editing tools
Once upon a time, if you wanted to swap out an image or fix a typo on your giving day site, it was a process. You had to contact your project manager, and then they had to contact a developer at their team, who had to go into the backend of the site and make changes to the code. Changing a word could take up to 48 hours. Some giving day platforms still operate like this. (We won't name names.)
But Mightycause's giving day platform allows you to make the changes you want, when you want. You can edit in just a few clicks and keystrokes.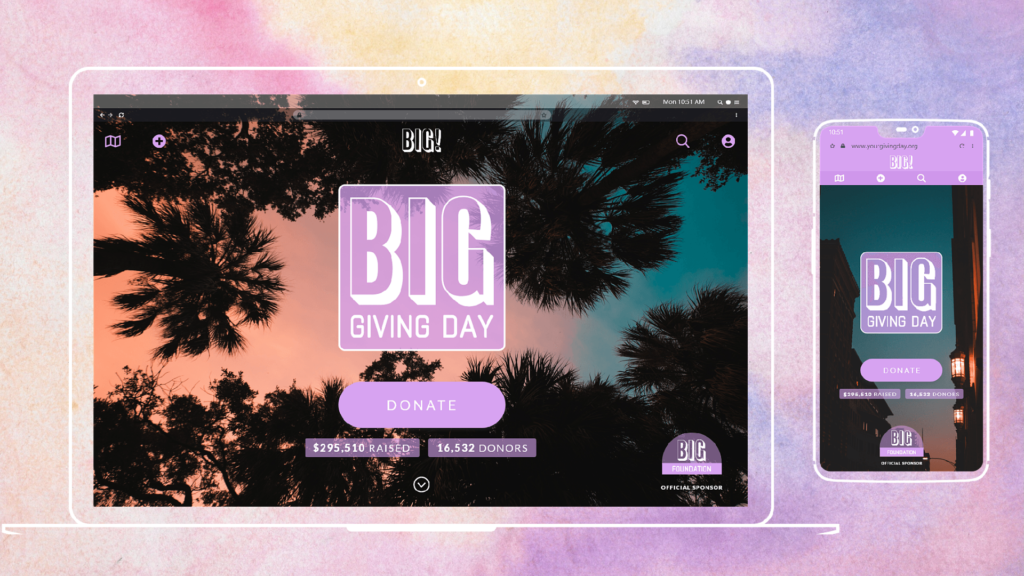 Giving event dashboard
We've provided an easy-to-navigate dashboard you can use to edit your giving day site, view participants, approve offline donations and more. You can easily take control of your giving event site and make sure it looks and reads the way you want.
Easy text editor
The best part about our new giving day platform is that it's designed for the everyday user. No special skills required! If you can post on Facebook, you can now edit your giving day site.
But text editing is just where it begins. You can add links, embed photos and videos, upload files, create tables and lists.
4. Our giving day platform sets nonprofits up for success year-round
We know that any organization that hosts a giving event is deeply invested in the nonprofits that participate. You want to see them succeed and make an impact in your community long after the giving day is over. The goals of a giving day are more than raising lots of money on one day; you want to make a lasting impact in your community and bring in new donors participating nonprofits can steward. And with Mightycause, you can help set nonprofits up for year-round fundraising.
Nonprofits that participate in your giving day are given access to their Mightycause page when they register. That means they can use their Mightycause page to raise funds for their cause beyond your giving day. Nonprofits can use Mightycause to create fundraisers, run team or peer-to-peer fundraising campaigns, accept recurring donations, embed a donation widget or custom donation page on their website, and more. We have a variety of pricing plans that will work for nonprofits of every size, budgets large and small.
By choosing Mightycause as your giving day platform, you're making a decision that will help set local organizations up for success 365 days a year.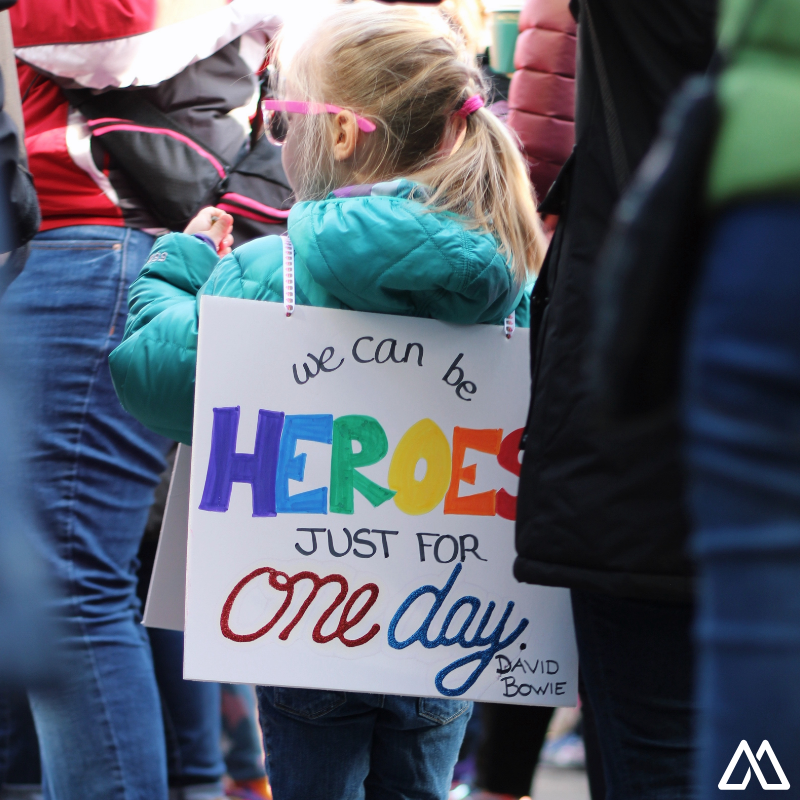 5. Full-service customer support
At Mightycause, we pride ourselves on our customer support. When you host your giving day on Mightycause, our friendly customer support staff serves not only you, but nonprofits participating in the giving day, and all donors. We're here to answer technical questions, questions from nonprofits about their page and disbursements, and send receipts to any donors who misplaced theirs. Whatever you, participants or donors have for us, our awesome staff of customer support agents will handle it quickly and with a smile.
Priority support
We've got customer support staff online (and on the phones) for the duration of every giving event. And questions related to your event come first. That means from the time your event starts until it ends, we'll have people online and ready to help.
Back-office support
Mightycause takes care of many of the tedious little details you don't want to worry about when you're trying to plan an event. Making sure paperwork is in order for fiscally sponsored organization? We take care of that for you. Providing tax receipts to donors? We do that too. We also manage disbursing the funds raised to all of the nonprofits, provide financial reports so they can balance their books, provide annual giving statements … we handle as much as possible so you can concentrate on your event.
Want to know more?
Learn everything to know about running your own giving day with Mightycause? Download our free ebook on the topic! You'll learn everything about how these events work, what your role is as the host, and how Mightycause can help you along the way.