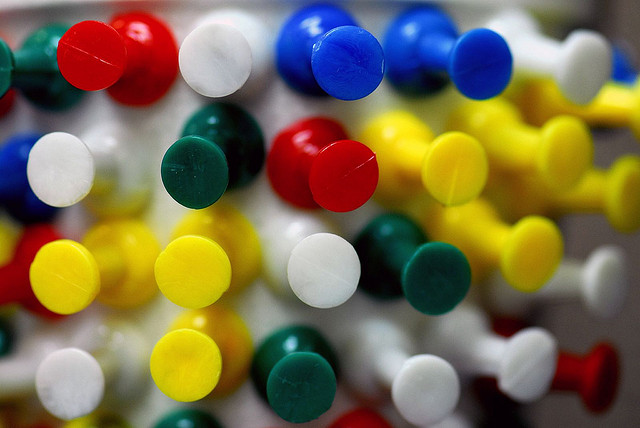 Last January I pledged to use Pinterest more in 2012. That was one resolution kept! Today, I have 49 boards and over 1,000 pins.
Here's what I've learned about using Pinterest for cause marketing over the past year.
Pinterest is a great place to connect with cause-minded people.
After Twitter, Pinterest is my second go-to place for finding and following people and businesses interested in cause marketing. Some of my favorite new friends include:
— Astronomers Without Borders, a nonprofit that's bringing stargazing to kids and adults all over the world. They have an amazing cause partnership with telescope maker Celestron.
— Firehouse Subs is very active on Pinterest and other social networks, which they've used to support first responders that save lives.
— Milkshake is a free email newsletter that features great finds that give back. They've been active on Pinterest and have quite a few followers.
Of course, Pinterest lets me stay connected with old friends too. Mightycause has a great board on Pinterest and I enjoy liking and stealing their pins!
Pinterest is a great place to curate cause marketing content.
Every day I find new uses for Pinterest for all the cause marketing campaigns I follow.
— I started by pinning all the cause partnerships I found on the web on one board called Cause Marketing.
— Next, I started breaking out my pins by type of cause marketing (e.g. point-of-sale, social media, action-triggered, etc).
— Late last year I started sorting some of my pins by holidays (e.g. Halloween, Veterans Day, Christmas, etc.). (Over the summer I even started a board on Pinterest to share what was blooming in my flower gardens!)
— Finally, to complement a book I'm writing for release next fall–Fundraising with Businesses: 50 New (and Improved!) Tactics for Nonprofits–I'm creating Pinterest boards that will give readers to access additional content via QR Codes at the end of each chapter.
Pinterest is blogging gold.
I've written about a lot this past year, but the appetite for these posts has remained high. My posts on Pinterest were some of the most popular posts I wrote last year. They include:
Pinterest is good for cause marketing.
Several nonprofits and businesses have used Pinterest for cause marketing fundraisers over the past year. Let me be clear, I don't think Pinterest is leading a revolution in cause marketing, but it will be another key platform for cause promotions. Check out this board of promotions from 2012.
The real value of Pinterest for cause marketing will be in how nonprofits can share and tell their stories with pictures and video. Check out how the Gates Foundation is using Pinterest with their board Photo of the Day.
Have you seen any good examples of cause marketing on Pinterest? Share them in the comments below or pin them on Pinterest with the hashtag #causemarketing. Happy pinning!