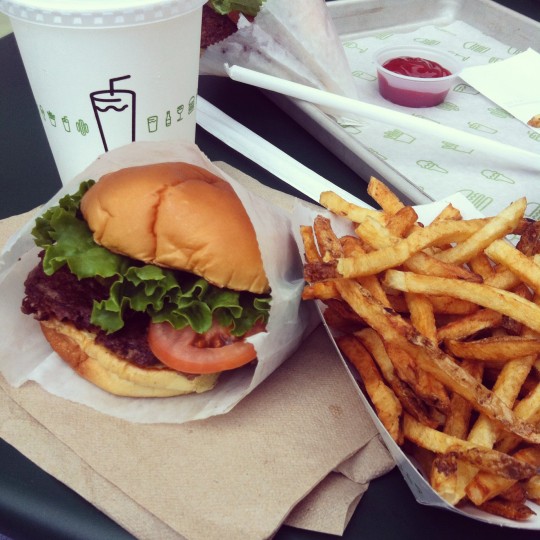 This past weekend I had two goals: spend time with the family and go to Shake Shack—America's burger stand. To make sure I did both, I took the family to Shake Shack! I think I was more excited than they were because I was going for the food AND the cause marketing.
You see, on May 1st Shake Shack kicked off its 3rd Annual Great American Shake Sale benefiting Share Our Strength's No Kid Hungry campaign. The results of the two previous years have been impressive.
With just nine participating locations, Shake Shack raised $135,742 in 2012. I thought this was a lot of money, but in 2013 they raised $285,862, which is an incredible sum for a small chain like Shake Shack.
Let's put this in perspective. That means that on average, each Shake Shack store raised $31,762. If a chain as large as Kmart had similar results with its 1,300 stores, they would raise nearly $42 million! (It's worth mentioning that Kmart's largest cause marketing campaign raised $22 million for St. Jude Children's Research Hospital in 2013.)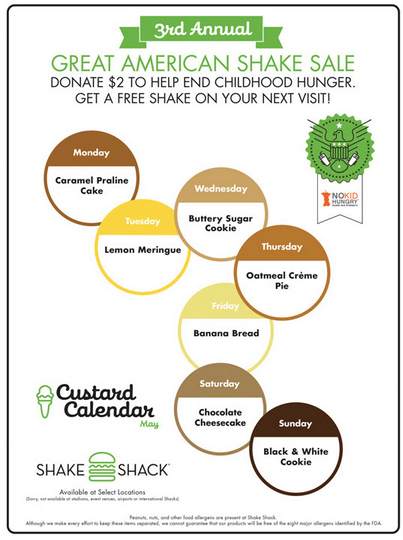 So how has Shake Shack posted these incredible fundraising numbers?
First, Shake Shack is very committed to the No Kid Hungry campaign end childhood hunger. It started in 2012 when SOS's founder and CEO, Billy Shore, spoke to the Shake Shack team about its goal to end childhood hunger.
"It lit a fire for giving and inspired us to create the Great American Shake Sale," said Randy Garutti, Shake Shack's CEO.
Second, Shake Shack knows how to reward generosity. Throughout the month of May, Shake Shack guests who donate $2 or more to No Kid Hungry will receive a card for a complimentary shake – valued at $5—on their next visit. One hundred percent of donations will benefit No Kid Hungry.
This year, Shake Shack has upped the goal for the 3rd Annual Great American Shake Sale to $300,000. I'll bet you a burger and shake they hit it! It will help this year that Shake Shack has double the locations – 21 here in the United States.
We have two locations in my home state of Massachusetts. The lines are always out the door. Shake Shack is a great place to go when you're hungry. And for the month of May, you can help the hungry, too. That's two ways to feel good.