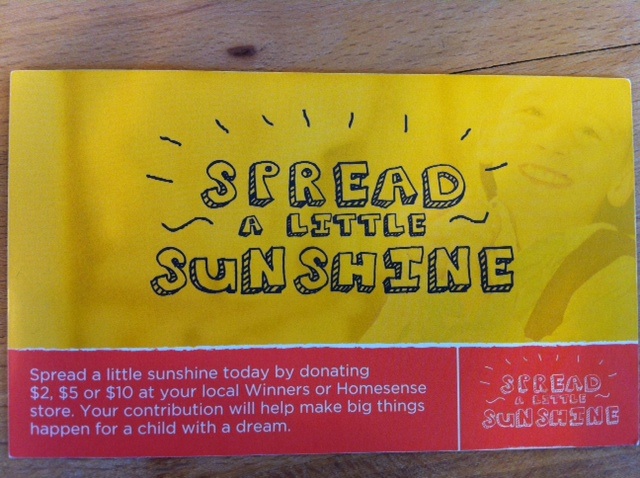 Phillip Haid, founder and CEO of Toronto-based Public Inc., knows how to run a successful pinup program. He's raised millions working with Canadian companies like Winners and HomeSense, and nonprofits like the Sunshine Foundation.
I asked Phillip what makes his campaigns so successful.
1. Fitting Rooms
"We try to take some of the pressure off of the sales associate by promoting the campaign throughout the store," said Phil. "We do stickers on the mirrors in the dressing room, announcements over the public address system, buttons on the sales associates and visuals at the register."
Phil's tactics surprised me as I usually hate posters and trinkets, which I view as distractions. Instead, I focus on motivating cashiers to ask the all-important question: "Would you like to donate a dollar to X?" But Phil and I agreed that with the ask firmly in place, low-cost forms of visibility can help a campaign. I'd start with register signs. But I like Phil's suggestion of using stickers in strategic locations, like fitting rooms.
2. Online to Offline
"We try to drive online to offline and vice versa," said Phil. "For every person that shares a message with a friend, posted via social media, the company makes a donation. In turn, we use social interactions to visit stores and make contributions.
"Stand-alone campaigns are not the norm anymore," he said. "You have to surround people with your cause and requests."
3. Starpower
"We use star power to drive media buzz and get people into the stores," said Phil. "Naya Rivera (Santana on Glee) came to Toronto to launch a campaign. We assembled a choir from a school of the performing arts and had them perform songs as a pop-up choir on the subway throughout the city on the same day. It generated a huge amount of coverage that in turn drove people into the stores and online."
I loved Phil's perspective on the celebrity connection with cause marketing.
"Starpower is great, but it can be a distraction if you spend too much time chasing stars, or think a celebrity is all you need to be successful, said Phil."
Celebrities are the cherry on the sundae. It looks great and completes the dish, but it's just one, small ingredient that people can live without (but prefer not to!).
Get started with cause marketing with my new guide: The Lazy Fundraiser's Guide to Raising Six Figures This Fall.