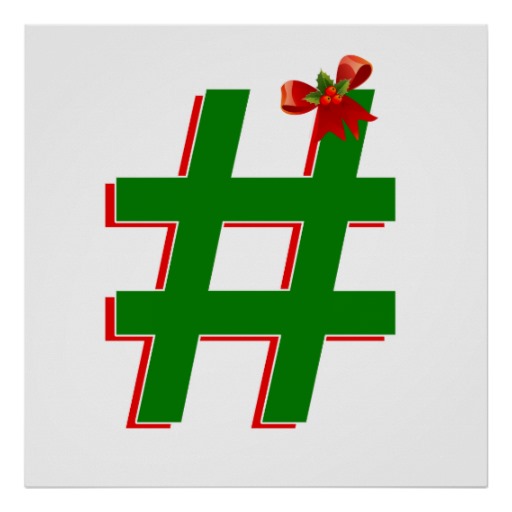 I track a lot of holiday campaigns on Pinterest. I have boards for Halloween, Valentine's Day, Veterans Day, and most of the other major holidays that have a cause component to them. But my biggest board by far is for Christmas. I have 140 pins!
Like past years, I've been tracking cause promotions for the holiday and have noticed an interesting trend. Most of them involve hashtags. If you're not quite sure what a hashtag is, here's a primer.
You can check out several examples on my Christmas Pinterest board, but here's one I really liked.
KFC Fights Hunger with #FillUpForGood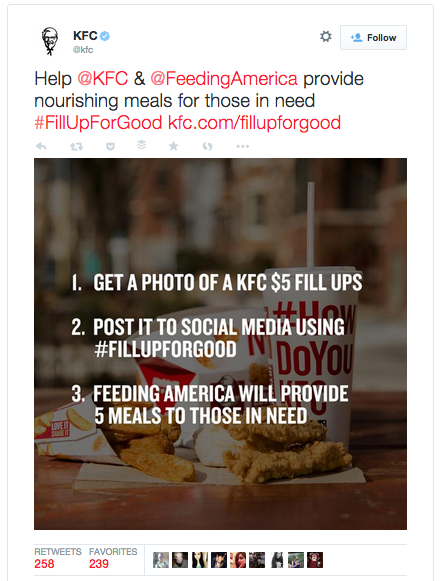 For the holidays, KFC is teaming up with Feeding America to fund one million meals to those in need this holiday season.
KFC tested the program in July and it was so successful they brought it back for the holidays. All consumers need to do is post a picture of a KFC $5 Fill Ups meal on social media (Twitter, Instagram, or Facebook) with the hashtag #FillUpForGood. For each social post or repost that includes a $5 Fill Ups meal photo and #FillUpForGood hashtag, KFC will donate 50 cents to Feeding America (equal to five meals) for those struggling with hunger across the country.
KFC's goal is to donate $100,000, which will fund one million meals.
Hosting Your Own Hashtag Fundraiser
A few things to remember if your goal is to run your own hashtag fundraiser.
Hashtag fundraisers work best when either the nonprofit or the business (preferably both) already have a sizeable following on Twitter or another key social network. It's difficult to put a number on what's sizeable. Start by answering these questions: Are you active on Twitter or do you just have an account? Do you tweet every day or once a week? Do you get your news, information and entertainment from Twitter and other social networking sites? If you answered yes, you may have the critical mass needed for a hashtag fundraiser.
Choose a hashtag that's simple, but make it specific and unique. If you're a food pantry in Boston try #BOSFoodDrive, which is short for "Boston Food Drive."
Promote the hashtag fundraiser everywhere, especially on other social networks (e.g. Facebook, Pinterest, Instagram), including Twitter.
With a little exploring online you can find alternatives to Twitter Search to track the results of the fundraiser. Regardless of what you use, make a point to record the results weekly, if not daily. Twitter search tools limit results by date or number or both. If you wait until the end of your campaign, you may never know just how many times the hashtag was used.
An alternative to tracking tweets is to secure an upfront and guaranteed donation from the company. Be sure to disclose this in the not-so-fine print (e. g. "ACME Company is donating $10,000. But your tweet still counts! Show your support for the campaign by tweeting the hashtag).
The great thing about hashtag fundraisers is you can do them any time of year. I have a whole Pinterest board on hashtag fundraisers to prove it!
Joe Waters blogs at Selfishgiving.com.